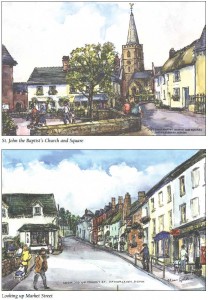 Eileen Gold Art Competition for Hatherleigh Festival 2015 (23-26 July )
This competition is being held in memory of Eileen Gold (deceased 2014) who lived in High Street, Hatherleigh, for thirty years and painted the town, its people, its livestock market and the surrounding rural area and published the book 'Hatherleigh as I saw it' as a lasting record of her observations of this small market town so that they would not be lost even though the town itself will change 'as everything is changing'
How do you see Hatherleigh?
What matters most to you here?
What inspires you?
Is it likely to disappear?
For the competition we would like you to create artwork in your chosen medium in response to the above questions.
This is an OPEN competition – anyone can take part but the artwork must be all your own, must have been created in the last three years and not to have been displayed to the general public previously.
The top three entries will be printed as postcards which will be sold on behalf of the Festival and Town and with the winning artists receiving 40 postcards each.
There will also be a 'People's Favourite' award and an award for the best entry by an artist living in Hatherleigh.
Paintings, drawings, monoprints, creative embroidery, glass, mixed media work allowed (but not photographs).
Mounted or framed Artwork to be ready to hang and not to exceed 24 x 20inches
(610 x 510mm).
Up to three entries per person.
Judging will be by a panel of three people including a professional artist.
Entries will be displayed at Hatherleigh Community Centre for the duration of the Festival, with the winning entries being displayed at the Salar Gallery after the Festival.
Entry forms available at Salar Gallery & the Post Office from beginning of June.
Entry fee is £2 per artwork. Closing time for entries is MIDDAY on 18th JULY.