New for 2018 and fresh off the back of the success of the Sheep Ahoy! competition we thought it would be great to do something similar but make it a little more dynamic! So we came up with the idea of MDF Geese on wheels freewheeling down the road from the TallyHo! to The George Hotel. No propulsion other than good old gravity. No steering just good wheels and engineering, a few bales of hay, willing supporters and a fun atmosphere.
There are two competitions to enter and both can be entered with the same Goose. The Goosage competition for the best dressed (decorated Goose) and the Goose Running competition – the winner of which will be decided by a series of race heats where everyone will get a chance to race multiple times and through a points system heat winners will go through to the quarter finals, semi finals and finally final Finals!
Winner of the Sam Bird Trophy (fastest goose) will win a Cheese Hamper kindly donated by Taw Valley Arla Cheese and a voucher from Riverside Boarding Kennels and Cattery for a two night stay.
The Goosage winners will win £20 (both Kids and Big Kids).
There are two categories in the Goosage Kids and Big Kids. Kids category very much for the children who have genuinely decorated by themselves. Big Kids is for adults and families. It's fair. You know it makes sense.
Sam Bird Trophy Rules;
Gravity propulsion only.
Only geese provided by Festival can enter but you make the wheeled base any way you want!
Geese will be released at the top of the course.
No pushing and no running after the goose.
No remote steering control system.
No batteries or powered system on goose.
Race track must be kept clear ahead of running geese so as to avoid being trampled to death as they come charging down.
Judges decision is final.
Race course will be lined with bales of hay.
If, or when, a goose veers off and strikes the sides of the course spectators will likely steer the goose back onto the course. This is part of what makes the race and so should be welcomed.
It's a bit of fun. We respect that you may have invested time and money into the wheeled system. The point of the event is light hearted and FUN.
Goosage Rules;
Two categories – Kids (under 16) and Big Kids
Only geese provided by Festival can enter.
Judges decision is final. Jane Payne and Geoffery Cleverdon will be Judges.
Anything goes – paint, sculpture, textiles, flowers etc.
Be creative!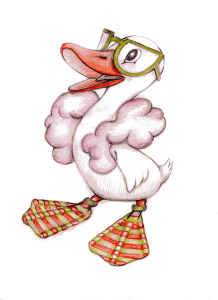 Available at Salar Gallery, The Paper Shop and One Market Street Cafe. If unavailable contact us via
Thank you to Elizabeth Durrant for the awesome artwork!