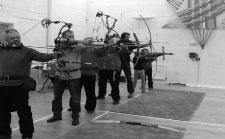 We are delighted to welcome back Elmtree Archers who will be running 30mins introductory archery workshops.
"A very popular family workshop in 2013"
10am – 2pm
Saturday Afternoon in the Mugga, Community Centre
Suitable for the whole family
Tickets – £3
8-10 people per session
Each session is 30 minutes long.
Participants will need to turn up 10 mins early to write down name and address for insurance purposes.
Each session will start with a talk about archery safety.