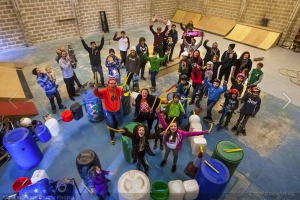 Join uSkate in Island Park from 10am for a full day of workshops including skateboarding basics to advanced tricks, circus skills and other extreme sports.
We're absolutely delighted that the uSkate team have agreed to join us on Saturday and hope that you will take advantage of the fun that will be in the Park all day.
About uSkate
We are a team of sports coaches that want to bring extreme sports to as many children and young adults in Devon & Cornwall as possible, we at Uskate skate club really believe that extreme sports do far more than keep you fit, they teach you a confidence and self work that will stay with you well into your adult life, children need a focus in life and these sports/activities really teach that anyone with hard work and commitment can really achieve anything you put mind too.
Circus skills are fun and are less physical but very rewarding mentally, as takes a lot of commitment and dedication and is really great for building hand/eye coordination skills.
www.facebook.com/UskateSkateClub
Saturday at Island Park 10am – 4pm
Donations Welcome