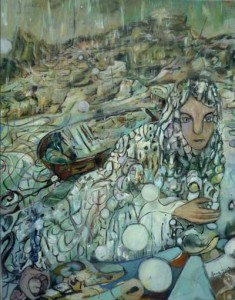 Anna Georghiou is a painter and musician, exhibiting and performing internationally.
Her work depicts groups of figures in a timeless setting; offering viewers alternative possible worlds, questioning reality and embracing the creative imagination.
'Honesty in Art Is important to me, Art need not shock or follow superficial hollow trends. In an age of cynicism I wish to affirm the enduring qualities of the human spirit and attempt to reignite the search for the Logos (the soul), and' the insightful power of the mind'.
See more of Anna's work www.artannageorghiou.info
Exhibiting in the Parish Church
Thursday 6pm – 8pm
Friday 10am-6pm
Saturday 10am – 6pm
Sunday 11am – 5pm