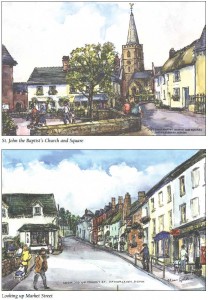 Retrospective Exhibition of paintings and etchings by Eileen Gold
12th July to end of August 2015 at Salar Gallery Exhibition Rooms, 20 Bridge Street, Hatherleigh.
Opening times: Tues 10am-5pm, Thurs, Fri & Sat: 10am-1pm & 2-5pm (and  Thurs 23rd July evening, with the other exhibitions).
Contact Tel No 01837 810940, email: .
Eileen moved to HATHERLEIGH FROM Brighton in the 1980s and this exhibition includes some work from her earlier days together with work from the 30 years she lived in Hatherleigh.