This year Hatherleigh Festival is organising a Postcard competition open to all  based on Hatherleigh's less iconic symbols (E.g. Wellington boots, School gates, Red lane, The Skate park, The Moor, The Lollipop lady, Festival/Carnival events? )
Design, paint or draw your image on an A6 piece of card.
These will be exhibited in the Old schools during the Festival weekend.
A selection of entries will be made into postcards.
So sharpen those pencils and search out those paints!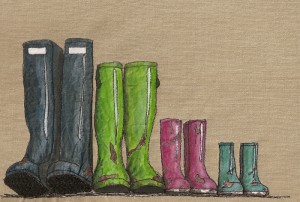 50p per entry to be taped to the back of your art work along with name, age and contact number.
Drop off points around Hatherleigh; Post Office, Primary school, Paper Shop and Community Centre
Look out for the posters around town!
As mentioned in the February Hatherleigh Pump
The Salar Gallery will be running an Eileen Gold painting competition based on what Hatherleigh means to you. The winning entries will be turned into cards. More information to follow!