2015 Sponsors
Hatherleigh Methodist Church
Hatherleigh Post Office
Hatherleigh Parish Pump
Richard Tidball Insurance Services
Claire & Matthew Andrews
Devon County Council
Hatherleigh Walruses
Hancocks Garage
Mrs I J Dodd MBE
Mr Peter Bright
Hatherleigh Fish Bar
Vivians Honey Farm
Alan Cranleigh
Mike & Di Stamp
Mrs B Beaman
Rotary Club of Hatherleigh
B J Barkwell & Sons
Carol Barkwell
Hatherleigh Moor Management
Hatherleigh Town Council
Michael & Claire Morpurgo
The Tally Ho!
The Lindsay Family
Michael & Diana Linsay
Special Thanks to:

Hatherleigh Pottery 
The Paper Shop 
OCRA 
Alan Beaman- Commerce House 
Pynto 
Cafe de Ville 
Salar Gallery 
Hatherleigh Parish Church 
Hatherleigh Players 
Okehampton Choral Society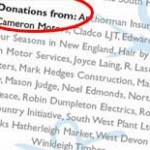 Hatherleigh Festival in the process of being organised with as always, many exciting acts, exhibitions and events taking place. We aim to promote quality events performed mainly by professional artists, but also provide a platform for local talent, which has quickly made this festival one of the most popular events in West Devon.
The Festival is funded through local sponsorship, grants and donations, without which there would be no festival. We aim to keep ticket prices low or free of charge, so that everyone here can share the new experiences that the Festival brings. Many successful, community minded businesses sponsor the Festival and we would like to offer you the opportunity to join them.
If you would like to sponsor or please contact the Festival Office on 01837 810953
The festival is always a great success, giving much pleasure to all whom attend. With your help we can make Festival 2012 the best yet. I would like to thank you, in anticipation for your consideration and any contribution you are able to make.