The Evening Sessions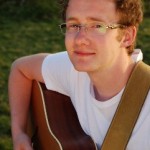 Ed Lane – Acoustic Guitarist
Ed is an accomplished singer/songwritter with an arsenal of self-penned modern folk songs.
………………………………..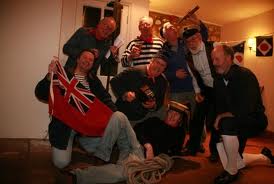 Mariners Away
Singers of of sea shanties and other songs. Mariners Away home ports is the village of South Zeal on the nothtern flanks of Dartmoor and at least 20 nautical miles from the sea!
Together or possibly apart these two beauties will be touring the pubs of Hatherleigh
Entertainment



Take That Experience
Take That: the phenomenon,are a five piece once again.
The Take That Experience gives you all the energy, entertainment and authenticity of the real Take That. This sets them apart from other Take That tributes bands. The talented members are recognised as the 'leading' Take That tribute band throughout the country for their accurate vocals, attention to detail, professionalism, mannerisms and physical likeness to real Take That.
They simply give you the Take That Experience!
The impressive set list includes all the huge hits from over the years, from current to the oldies that have brilliantly made Take That where they are today. These include 'Shine ','Kidz ','Rule the World ','The Flood ','Could it be Magic ','Relight my Fire ', 'Pray' and 'Back for Good ' and many, many more.
………………………………………………………………………………………………………………

Flanders & Swann
A wonderous evening of music and wit courtesy of our very own Roger Cleverdon.
Donations in the bucket for this event
Sessions in The Marquee
Zuby
In the world of hip hop, Zuby is an anomaly. England born, Saudi Arabia-bred and Oxford educated – he refuses to fit into the 'generic rapper' category.
Since graduating in 2007, Zuby has further expanded his profile by using street promotion, social networks (over 400,000 plays on Myspace, 200,000 views on YouTube and 2,000 fans on Facebook), live performances and online videos to connect with his supporters. To date, he has sold over 5,000 albums independently and hundreds of his famous 'I'm Down With Zuby, Are You?' T-shirts. He has gigged all over England and his efforts have taken him as far as the USA, Germany and Saudi Arabia to perform. His songs have received radio airplay on BBC Radio and Choice FM, amongst others.
Zuby continues to record and perform across the UK as he prepares to release his next album. www.Zubymusic.com
………………………………………………………………………………………………………………
I am in love
"I am in love is a name that derives from a realisation that their singer is indeed in love and not just a boywho does not know what love is.
They are four boys and one girl, hailing from Leicestershire, in central England.
Formed just four monthsw ago in late 2010 after their previous band disbanded, i am in love locked themselves away and set about perfecting what they do, putting all of their effort and energy into every song, every note , everydrum hit, every key and string on the record. They are striving to make music that excites people, music that people can connect with, music that crosses decades and maybe even divides opinion – like the music of their heroes: Prince, Bowie, Adam Ant, Freddie Mercury and bands like The Cure, Bloc Party, OMD and Foals. These influences have shaped the sound of i am in love.
Origionally planning to wait until after a summer of festival slots and heavy touring to release any material, the press interest and imminent scheduled Daytime Radio 1 airplay has moved things on apace.
That band have just finished their debut album, 'Of Regard and Affection', which is set to be released across Europe through Velocity Sounds Records on the 27th May, and in the USA through Pirate Ship Records later in 2011.
Their debut single, 'I want you', is released through Robot Needs Home Records on 16th May."
……………………………………………………………………………………………………………………..
Killamonjambo
They perform with a vigour that encourages maximum crowd participation. The audience dances, skanks and jumps along with an unashamed enjoyment seldom seen. You just have to see them!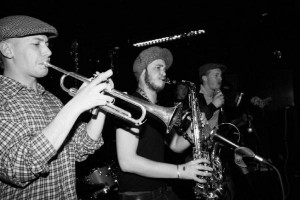 Saturday
The Hog Ranch
Hailing from the Deep South (West), this Bristol based band play a range of Bluegrass and Americana including some self penned numbers. A truly authentic sound of the South to kick start Saturday's music.
Dan The Hat
Born in Northampton and brought up in both Devon and Cornwall , Dan didn't delve into the world of manipulation until he was fifteen.Over the last 12 years Dan has built up a fast paced ,highly polished speciality act , which he has performed all over the UK and onboard ships around the world.What ever the occasion , Dan can and will ensure a good time is had by all.Using his plethora of skills and fresh , quick witted , comedic onstage persona , Dan will bring joy to all who watch him.
Rob Dave and Izzy
You Know them, you love them and now with added Izzy
Josie Lloyd
Josie plays the blues and rag time music of a long gone era. She is a fine guitarist with a delta blues voice that can raise a storm
JJ and the Sixes
JJ and The Sixes are Okehampton based. They have strong ties to the Okehampton Big Band. JJ plays popular covers, that will have you up and dancing…. enjoy
The Special K's
"These guys are going to be big we can feel it in our bones!" – THE FIRETRAP SESSIONSIntelligent and edgy, five-piece electro pop outfit THE SPECIAL Kshave taken the south by storm with their catchy, synth driven pop, and with their debut album in the final stages of production recently embarked on their second UK tour.The band's music bridges the gap between chart-topping pop and intensely clever live technology, and has gained them a legion of fans through their pitch perfect, high energy live shows.The band's debut full-length album 'BOA' is a stunningly confident first record that captures the energy and technicality of their live act and effortlessly propels their massive sound to an international level.Richly textured, synth-lead dance tracks such as title track 'BOA' and opener 'Cosmic' are natural hits, while Howard Kaye's vocal range and expressive melodies ensure that each track is far from a one-hit wonder.'We have a high-energy stage show and pride ourselves on performing completely live, without the use of any pre-recorded backing tracks. Everything you hear is played in front of you on stage and that definitely helps to create a good visual experience for anyone watching.'THE SPECIAL Ks recently supported FENECH SOLER & METRONOMY on tour

SPECIALKS.COM FACEBOOK.COM/SPECIALKSMUSIC TWITTER.COM/THESPECIALKS

Black Friday
Black Friday fuses Irish and Celtic tunes with high energy country punk rock, mixing in their own original songs. Taking influences from the Pogues, Flogging Molly, Johnny Cash and the Clash, the band have been wowing audiences with energetic performances around the country.
Sunday
Gospel Singing Workshop
St Thomas Gospel Choir invite you to come and join in with there two amazing gospel singing workshops. Come along to the first session and then carry on and join in the combined church service, then stay and have a go in the second session or simple sit back and enjoy the choir. follow them on Facebook
Combined Church Service
We are inviting all three churches; St John the Baptist Church, Methodist Church and The Vine Church to hold their service in association with St Thomas Gospal Choir. The service will be held in the Festival Marquee, in the Town Square.
St Thomas Gospal Choir – Exeter

…………………………………………………………………
Winnie the Pooh – Play
Hatherleigh's Young Players perform "Winnie the Pooh and Friends" with cake and candles, songs, dance and merriment. Nobody can be uncheered!
………………………………………………………………………………………………………………..

Organ Recital – Roger Cleverdon
Following his extremly popular concert for us last year, Roger Cleverdon will perform works from the recent Royal Wedding service.
……………………………………………………………………………………………………………………..

Hatherleigh Festival and Seabright Productions present
Two Halves Of Guinness
A new play by Mark Burgess
Directed by Derek Parry
with Trevor Littledale as Sir Alec Guinness
Mark Burgess's lively and funny play sees Trevor Littledale offer an uncanny portrayal of one of the world's best-loved stars reflecting on acting, faith, family and his shattering insecurity, played to a background of the golden days of British film and theatre.
Alec Guinness's stage and screen career spanned decades of cinematic glory, winning multiple Olivier, Tony and Bafta and Academy awards along the way
Alec Guinness stage and screen career spanned decades of cinematic glory, winning multiple Olivier, Tony and BAFTA and Academy awards along the way. His acclaimed work in films such as Kind Hearts and Coronets, Lawrence of Arabia and The Bridge On The River Kwai, and his stage work alongside Olivier and Gielgud, established him as a household name.
Mark Burgess lively and funny play sees Trevor Littledale offer an uncanny portrayal of one of the worlds best-loved stars reflecting on acting, faith, family and his shattering insecurity, played to a background of the golden days of British film and theatre.
We join Sir Alec in the late 70s, as Star Wars is set to become one of the biggest films of all time, featuring his iconic performance as Obi-Wan Kenobi. Amidst fears he will be remembered only as a Jedi, Sir Alec hadn't counted on the involvement of a master spy…
'A first-rate performance: this is a great piece of writing, directing and acting.' The Latest Brighton
'I don't know what else I could do but pretend to be an actor.' Alec Guinness
Thanks to Roger and Jan at Pipers Cottage for Accommodtion for the Artist on Sunday Evening